Standing at the Gates of Hell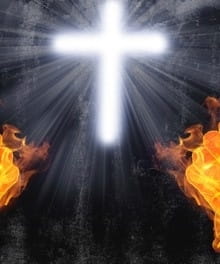 "Blessed are you, Simon Bar-Jonah!… I tell you, you are Peter, and on this rock I will build my church, and the gates of hell shall not prevail against it" (
Matt 16:17–18
). The "gates of hell"? Why did Jesus respond to Peter's confession, "You are the Christ, the Son of the living God," in this way (
16:16
)?
The Gates of Hell in Cosmic Geography
When we read "hell," we naturally think of the realm of the unbelieving dead. But the Greek word translated "hell," hades (ᾅδης), is also the name for the Underworld—the realm of all the dead, not just unbelievers. The Hebrew equivalent to hades is Sheol—the place "under the earth," where all went after this life ended.
Sheol had "bars" (
Job 17:16
) and "cords" to tie down its inhabitants (
2 Sam 22:5–6
), preventing any escape (
Job 7:9
). Both the righteous and the unrighteous went to Sheol. The righteous believer, however, could hope for deliverance and eternity with God (
Psa 49:15
).
While the imagery associated with the Underworld would have unnerved the disciples, Jesus' reference to the gates ofhades would have jolted them for another reason. If they knew their Old Testament well, they understood that they were standing before those very gates as Jesus spoke.
The Gates of Hell in Terrestrial Geography
Matthew 16
takes place in Caesarea Philippi, situated near a mountainous region containing Mount Hermon. In the Old Testament, this region was known as Bashan—a place with a sinister reputation.
According to the Old Testament, Bashan was controlled by two kings—Sihon and Og—who were associated with the ancient giant clans: the Rephaim and the Anakim (
Deut 2:10–12
;
Josh 12:1–5
). The two main cities of their kingdom were Ashtaroth and Edrei, home to the Rephaim (
Deut 3:1, 10–11
;
Josh 12:4–5
).
These cities and their Rephaim inhabitants are mentioned by name in Canaanite (Ugaritic) cuneiform tablets. The people of Ugarit believed the Rephaim were the spirits of dead warrior-kings. They also believed that the cities of Ashtaroth and Edrei were the entryway to the Underworld—the gates of Sheol. Also, during Israel's divided kingdom period, Jereboam built a pagan religious center at Dan—just south of Mount Hermon—where the Israelites worshiped Baal instead of Yahweh.
For the disciples, Bashan was an evil, otherworldly domain. But they had two other reasons to feel queasy about where they were standing. According to Jewish tradition, Mount Hermon was the location where the divine sons of God had descended from heaven—ultimately corrupting humankind via their offspring with human women (see
Gen 6:1–4
). These offspring were known as Nephilim, ancestors of the Anakim and the Rephaim (
Num 13:30–33
). In Jewish theology, the spirits of these giants were demons (1 Enoch 15:1–12).